We are going to look into the causes of implant failure and the symptoms. It's an understatement to say that Americans love having perfect smiles. According to New York Magazine, cosmetic dentistry–of the non-surgical variety–is the largest beauty sector after makeup. And due to greater access to dental care and its improved technologies, the number of people chasing perfection increases year after year. So it may surprise you to hear that so many of us actually have gaps amid pearly whites.
The ACP says that more than 170 million Americans are missing at least one tooth, while more than 30 million have lost all their teeth. In the past, this problem would have to be taken care of with temporary fixes, like dentures. Today, thankfully, people have the option of pursuing implant dentistry. If you are missing teeth you may have already looked into this procedure. Since crowns are laid atop an abutment and post that has been inserted into the jaw bone, dental implants are a permanent solution that can:
support oral structures
return function for eating and talking
prevent bone loss
relieve pressure on surrounding teeth
restore your smile
Since a dental implant has a high success rate, these kinds of benefits often outweigh the risks. But like any medical procedure, there is always going to be the possibility of implant failure. Since oral surgery can take years due to scheduling, financing, bone grafting, etc., it's obvious you want to do everything in your power to avoid this situation–both before and after surgery.
Are dental implant failure symptoms easy to spot?
The good news is that there are very observable signs of failure. So if you see or feel anything amiss, you need to get to your dentist or surgeon ASAP. Some common dental implant failure symptoms include:
A loose implant

Implants are permanent, so any movement is abnormal. If you can feel your implant move when you speak or eat, or you can feel it loosen by manually touching it, contact your oral surgery office.

Oral pain

You may have some pain while you heal after implant placement, so your dentist should let you know when discomfort should be completely gone)

Inflammation, redness, tenderness, or swelling

Again, some swelling after your surgery is typical while your gums heal. But your dentist will have you keep an eye on this issue to make sure it doesn't turn into an infection Some slight swelling immediately after implantation is normal, but if the gum tissues begin to look red and inflamed it could be a sign of infection.
I don't have symptoms, but I'm still worried about the dental implant failure rate
Again, compared to other procedures, implant dentistry has an extremely high success rate. If you do a quick Google search, you're going to find numerous studies and testimonies that show rates up to 98%.
In fact, an infographic compiled with information from the International Journal of Oral and Maxillofacial Surgery shows how these rates stack up: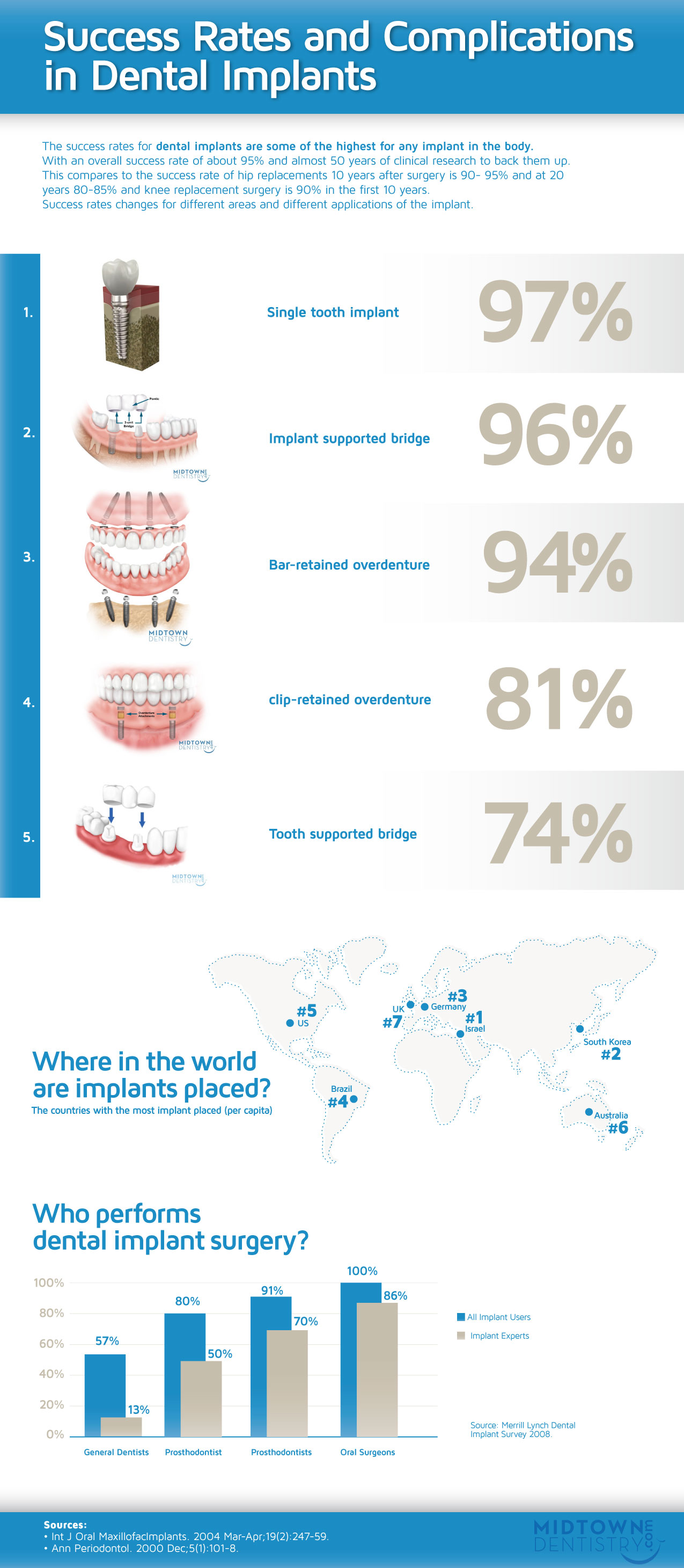 If you have a predisposition for higher failure rates, your dentist will go over these concerns to mitigate risk.
So, what are some dental implant failure causes I should know about?
Ever heard of the term "osseointegration"? If not, you'll be hearing it a lot before and after your surgery. Osseointegration means that the artificial implant has firmly anchored itself to natural bone structures. This process doesn't happen immediately after your surgery, it does take some months as you heal up. Ideally, healing goes without a hitch, but implant failure is often related to the failure of osseointegration.
Secondary health conditions
Medical conditions–like diabetes or an autoimmune disease–make it more difficult for the jawbone to heal and fuse with a dental implant. Any condition that can slow down your body's ability to heal itself will inevitably raise your failure rate. While medical contraindications can't always be helped, another biggie for implant failure is actually a lifestyle choice: smoking.
Smoking
Smokers already know that their habit affects their health, but what can it specifically do to dental implants? Since nicotine can reduce blood flow and oxygen to the maxillary and mandibular areas, again, healing time slows down.
A strong foundation of the jaw bone is key for success, but smoking can deplete necessary bone density. And while some smokers believe that e-cigs, or vaping, are exempt from harming implants, this alternative delivery system still affects healing. The silver lining for smokers is that technology has improved greatly for implant dentistry. These improvements mean that as long as dentists adapt their implant loading schedule for smokers, then there will be lower failure rates:
Research: Implant treatment plan should be adapted for smokers

A Chinese study comparing implant stability and peri-implant tissue response in heavy smokers and non-smokers has found that smoking did not affect the overall success of implant surgery, as all implants achieved osseointegration without complications at least by the end of the 12th week after placement. However, smoking did cause the bone around the implants to heal more slowly; thus, implants began to osseointegrate considerably later than in the non-smoking group.

Implant stability and peri-implant tissue response were assessed at three, four, six, eight and 12 weeks post-surgery.   Although implants in both groups achieved osseointegration by the end of the 12th week, the healing process differed significantly between non-smokers and heavy smokers. In non-smokers, stability improved and implants began to better integrate into the bone after the second week.

In the smoking group, however, implants only began to osseointegrate and become more stable after the third week.   Despite successful short-term outcomes in both groups, smokers experienced more problems, including greater bone loss around the implants and deeper soft-tissue pockets. However, smoking had no significant effect on plaque build-up or sulcular bleeding in the study group.   In light of the findings, the researchers suggested that surgeons might need to change their standard implant loading schedule for patients who smoke heavily.

In addition, smokers should be aware that their habit promotes the loss of marginal bone and the further development of dental pockets and could thereby lead to complications even after osseointegration, the researchers concluded.
Besides health conditions and habits, the one item patients don't want to hear that can affect their failure rates is surgical mistakes.
An inexperienced professional
These kinds of mistakes are few and far between, but if you don't take the time to research or check credentials, you could end up with an inexperienced dentist. An inexperienced dentist could place an implant too close to a nerve, use too much cement under a crown,  or use "immediate loading" inappropriately.
What is immediate loading you ask? It is an approach where the surgeon places both the abutment and crown at the same time. Usually, dental implants are placed in sections, but immediate loading can shorten treatment time. But if this option is recommended to someone who doesn't heal well, osseointegration can fail.
Lastly, failure rates can be chalked up to something as simple as eating the wrong foods or grinding your teeth. If you lost your teeth before due to poor oral hygiene, really think about what you can do after surgery to change that. For instance, infected implants–or peri-implantitis–can occur if people aren't adamant about using the anti-bacterial washes their dentist prescribes.
Are there treatments for dental implant failure?
Before it gets to the point of failure, your dentist should have a thorough consultation with you about your individual needs. For example, some people may have inadequate width, height, or length in their jaws to support an implant. If that's the case, you may need to undergo a sinus augmentation. This procedure will create enough space in your oral cavity not only for an implant but for a bone graft.
Ideally, you should be laying out all of your cards before surgery to avoid any post-treatment. If your dentist gives you a step-by-step guide for pre and post-procedural dos and don'ts, follow it! But thankfully if you do end up having implant failure, there are options. As previously stated, if you experience any symptoms, you'll want to get to your doctor sooner rather than later.
If you get in at the first sign of trouble, your dentist may be able to clear out the infection or even replace the implant at a later appointment. If your implant failure was caused by damaged bone or a poorly positioned implant, then your dentist may need to find a suitable graft. According to the following video, a graft would be able to save an implant from failure in some cases:
As seen in the video, a graft can come from a source like a cadaver or animal, but it can also come from membranes like Geistlich Bio-Oss. These kinds of membranes act as a framework that encourages bone growth around the implant.
What about failure years after surgery?
It's true that implant failure can happen many years down the road. In fact, drbicuspid.com raises a possible issue of titanium particles (from the implant) releasing over time and causing inflammation. This could especially be a problem if you have an allergy to nickel that you are unaware of. Implant dentistry uses titanium alloy as its standard, which also has traces of nickel.
Before or after surgery, it may be worth your while to get a MELISA test to diagnose any metal allergies. However, another drbicuspid.com article has more promising results when it comes to inflammation risks. According to one study, researchers were able to create a reservoir within the implant that could release antimicrobials designed to kill bad bacteria.
As you can see, although there are many variables that can affect failure rates, there are also numerous solutions to mitigate issues.
Contact us
If the benefits outweigh the risks for you, you'll want to get in touch with an experienced dentist. Since it takes some time to get the ball rolling for implant dentistry, you should at least arrange for a few consultations where your questions can be answered–even if you haven't made up your mind about this restorative route.
Dr. Nozaki, head of Image Dental, is a member of the American Dental Association, the California Dental Association, and the International Dental Implant Association. In short, he has lots of experience with oral surgery and dental implant technology. You can request an appointment with Image Dental online or you can call our office at (209) 955-1500.